2052selves
ETTEW
care(less)
NLN
vanish
mental
film
late
itv
bluebird
genius
D@AD
usher
something
tunji
animated
treehouse
news
archive
contact
publishing
still
care(less)
always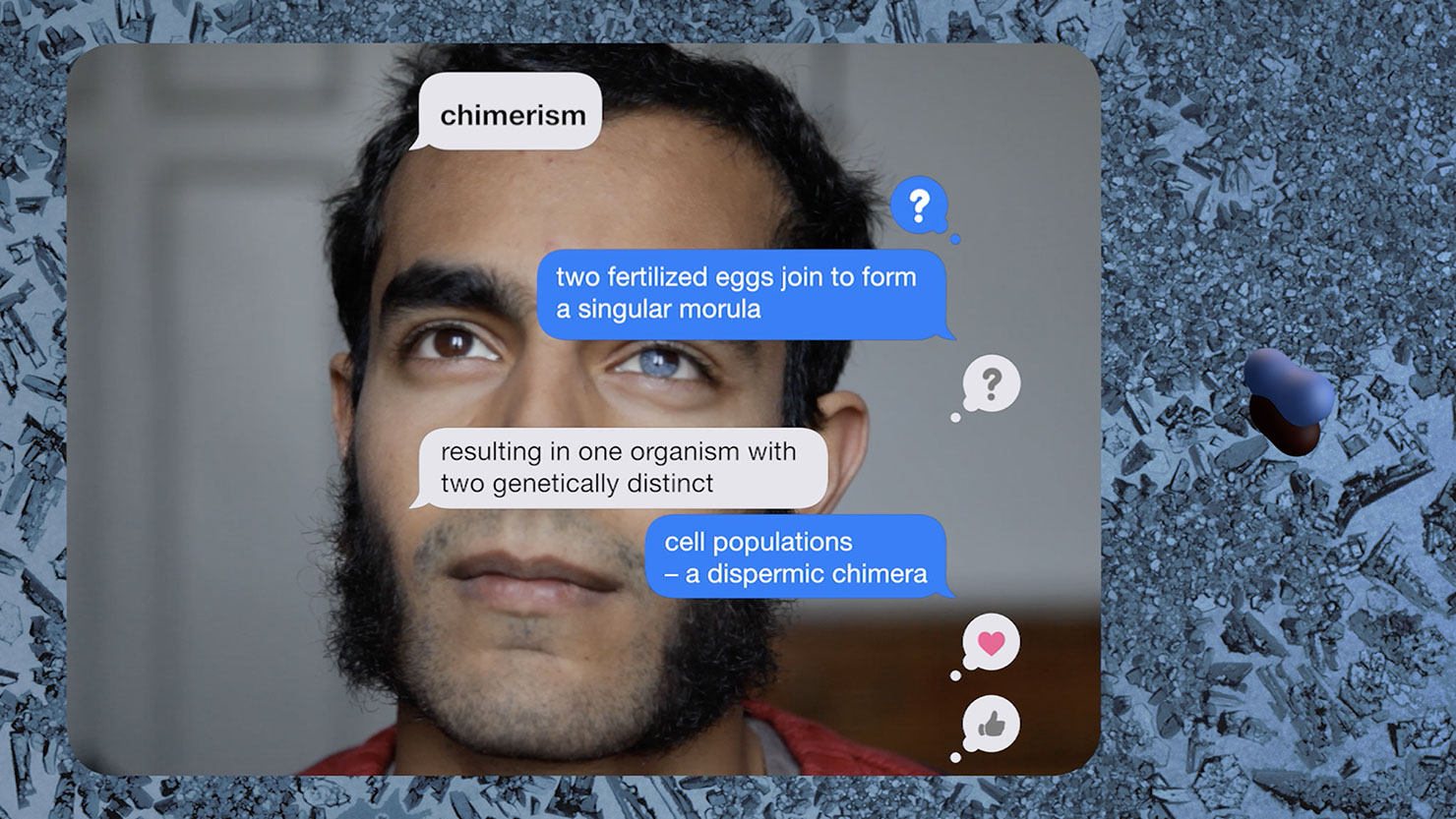 3x3x3.tv
© 3x3x3.tv = keith sargent, 2020.
2052selves
ETTEW
care(less)
NLN
vanish
mental
S/he is still inside you
In the morass of general political/social ideas about the world and its current state, each one of us has to navigate this excess of divergent information with our fleshy ageing bodies and our own specific and local perceptions. How do we conceive of a "race" or of a "nation"? These are categories that can not be easily accounted for except in generalisations that do not fit the detail. Consciousness itself is what underpins any semantic human thought and through this 'content' of heterochromia (tetragramatic chimerism) the intention was to investigate what technologies (specifically the iphone here) do to our consciousness. This fracturing and speed of thought encountered with the iphone is potentially closer to how the mind works - scoping and moving through a huge diversity of fact/fiction, embodiment, disembodiment and affect, seeking coherence that is perhaps in reality not out there.


The work takes a rare aberration, heterochromia, which is a condition that can arise from a non-identical twin being absorbed into its sibling in the womb. This trope of eyes of differing colours formed from two people is a physical embodiment of a divided self that goes beyond psychology to biology, from a question of mind to one of matter. The subjects in this work (all with heterochromia) often refer to their alienation and also how others relate to their biological difference.
film
late
itv
bluebird
usher
something
tunji
animated
treehouse
genius
D@AD
contact
art
2052selves
ETTEW
care(less)
NLN
vanish
mental
film
late
itv
bluebird
genius
D@AD
usher
something
tunji
animated
treehouse
archive
publishing
news
archive
publishing
still
care(less)
contact
news
archive
publishing
still
design
care(less)